Only

8

left in stock
Sold out
Finger PULSE OXIMETER
€45,05
€47,45
€45,05
Sold out
An indispensable assistant in the family first aid kit
Finger PULSE OXIMETER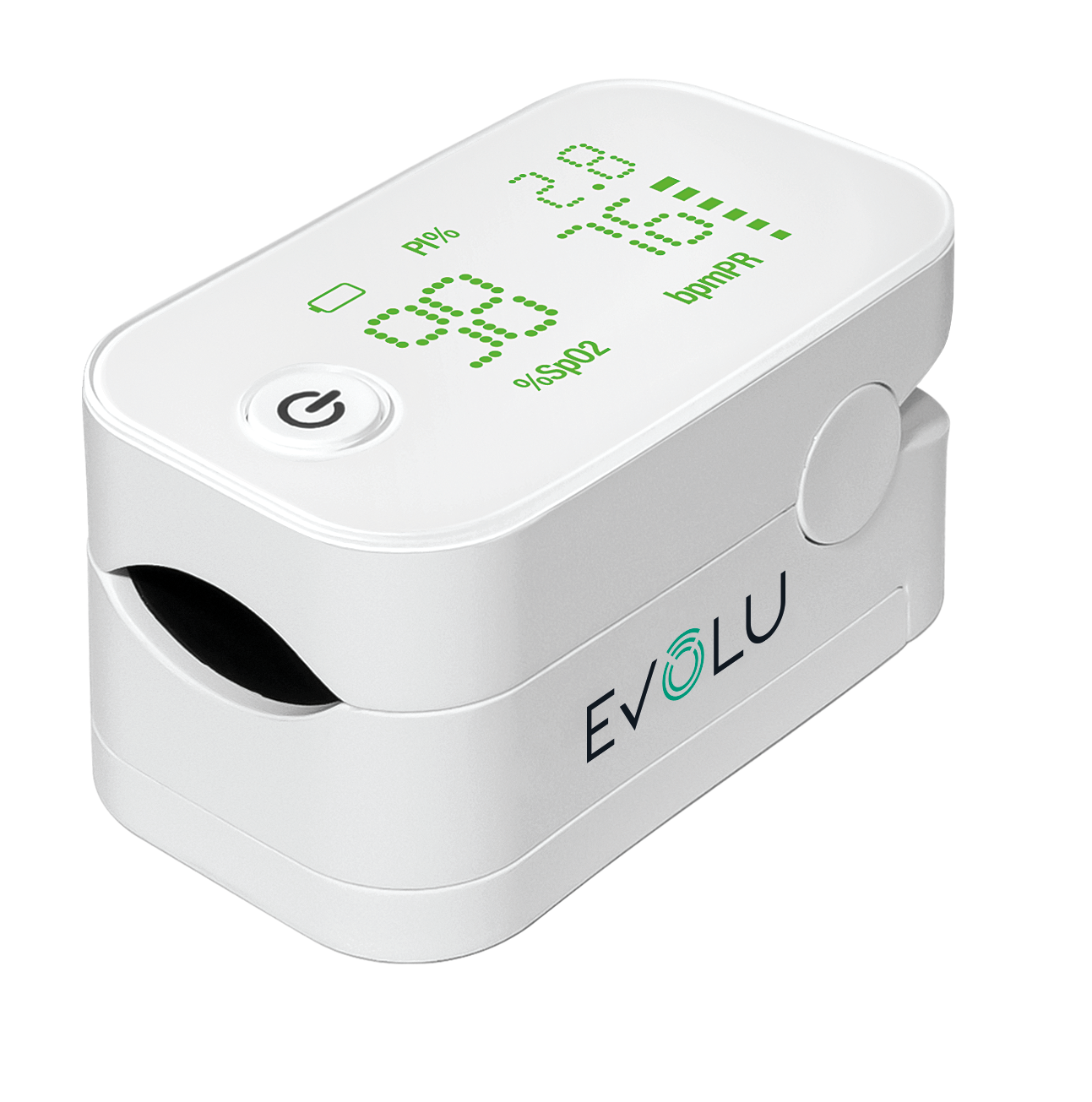 EVOLU PULSE OXIMETER - a portable device designed to monitor arterial hemoglobin oxygen saturation (SpO2) and heart rate at home, in hospital, sports medicine health, etc. It is ideal for measuring oxygen saturation levels before or after sports activities such as rock climbing, running, cycling and monitoring people with certain types of condition that can affect the level of oxygen in the blood.
Oxygen saturation indicates the percentage of hemoglobin in arterial blood with oxygen. This is a very important parameter in the respiratory tract. Many respiratory diseases can cause a reduction in oxygen saturation in the blood. Therefore, it is very important to know the patient's oxygen saturation so that doctors can identify problems in a timely manner.
The oxygen saturation (SpO2) of arterial blood in the normal human body is 98%. If the measured oxygen saturation is less than 94%, the oxygen supply is considered insufficient. Talk to your doctor.
Why is this pulse oximeter perfect for you?
Here are some benefits of this product:

EVOLU's fingertip pulse oximeter provides accurate and reliable measurement method for oxygen level in the blood and reads heart rate data and O2 saturation within 10 seconds.

Improved and updated based on traditional device, EVOLU pulse oximeter presents you who read data on a vivid and sharp LED display.

The one-button operation makes it easy to take measurements. Includes 2X AAA BATTERIES and a cord for practical use.

INFRARED SENSOR
Infrared sensor and unique soft silicon housing provide clear and comfortable measurement.
COMFORTABLE AND EASY TO USE
The one-button design ensures easy operation and the fingertip PULSE OXIMETER is very simple and easy to carry. It can be fastened with a removable cord, which makes it convenient to measure your oxygen saturation anywhere.
PI Perfusion index rate;
Pulse rate;
Oxygen saturation rate SpO2;
Easy to use design;
LED display;
One button - User friendly interface;
Low battery indicator;
Automatic switch-off;
Power supply: 2x AAA batteries;
Dimensions: 58.0 mm (Width) × 32.0 mm (Depth) × 32.9 mm (Height);
Weight: 50.4 g (including two AAA batteries);
Display range: Oxygen saturation 35% to 99%, Pulse rate 35 bpm to 250 bpm;
Measurement precision: Oxygen saturation ±2% (70% to 99%), Pulse rate ±2 bpm;
Stick one finger completely into the finger chamber of the pulse oximeter. The fingernail should be facing upward.
Release the clip and press the power-ON button to power on the pulse pulse oximeter. Keep your finger still during measurement. It is also not advisable to use this instrument during sports activities as movement may lead to inaccuracies.
Once the reading stabilizes, read the measured values of oxygen saturation and pulse rate on the screen.
The pulse oximeter will automatically shut down 10 seconds after you remove your finger.
Pulse oximeter;
2 AAA batteries;
Cord;
Travel bag;
User manual;
What is oxygen saturation?
Oxygen saturation indicates the percentage of hemoglobin in arterial blood that is saturated with oxygen. Oxygen saturation (Sp02) of arterial blood in a normal human body is 98%.
What is Perfusion Index (PI) ?
The perfusion index shows how intense the blood flow is at the measurement site. The sensor determines how much light is passing through the vessels and calculates PI based on that. The PI norm is within 4–7%. If the indicator is lower, then the blood flow is slow, higher - excessive.
Can this device be used to measure saturation for the newborns?
This product is not designed to be used by for newborn babies.
What can affect the accuracy of the readings?
Excessive patient mobility;
Low blood pressure, vasospasm, anemia or hypothermia (including cold hands);
The light intensity is too bright, so we advise you to avoid direct exposure to strong light (such as rays from working lamps or sunlight) during the measurement;
The user has applied nail polish or has artificial nails;
Venous pulsation;
Too cold or dirty fingers;
Can this device be used to measure saturation during phisical exercise?
Use during sports activities is not recommended.